WHY SUNDIAL?
Let's be honest. There are a million marketing consultants, web site design guys, print shops, graphic designers and promotional product sales people out there. So why use Sundial? It's simple...we take the hassle out of dealing with a dozen different suppliers and act as your own marketing department. Not only do independant suppliers cost you time and money, but they also jeopardize your brand presentation. Consistency is everything when building a brand and disconnected suppliers will never communicate like the team of professionals available to you when you partner with Sundial.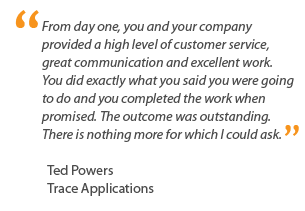 "What about big ad agencies" you might be asking yourself. "Don't they bring that consistency we need?" While its true large agencies can deliver the unity and strategy your business needs we simply don't believe the value is consistently there. Value flows from the combination of results with cost. While large agencies can deliver results...the costs can be astronomical. We believe in massive value for our clients and that the marketing industry is dominated by big egos and bigger price tags.
Corporate identities for $10,000, simple web design for $20,000, search engine marketing for $30,000...why charge these rates when we can build a healthy business by delivering better value to our clients and building lasting relationships?
This is why our clients choose Sundial and we hope to have the opportunity to discuss how we can meet your needs directly. Contact us for a no cost consultation on any of the many services we offer and judge for yourself.
TESTIMONIALS
"Thank you as well for all of the hours that you put in for the Grand Prix and Eskimo banners.
Things looked great."
- Brad Devarenes, Molson Canada
"Your designs arrived, they look fantastic. Thank you very much!"
- LeAnne Armano, Tricon Films (Restaurant Makeover)
"I was very impressed with the quality and will also be recommending Sundial to anyone I encounter…"
- Lars Calliou, The Comic Strip
"The menus are beautiful! Thank you very much."
- Teresa J., Casa Mendoza Restaurant
"Thanks! I look forward to the next piece with you…I do love your work."
- Blake Rand, Krave Media
"I think the work your team has done on our client project is great!"
- Stuart Fox-Robinson, Quercus Solutions
"This is exactly what I was looking for in a website. It's clean, it's sexy, and professional."
- Dr. Joseph Leong-Sit, Eye Q Laser
"I went over the sheets that you did up. I am really happy with the job you have done and appreciate your hard and fast work."
- Chad Johnson, Essence Installations
"Thanks Sundial, we appreciate the quality review. Thanks again for your customer service focus!"
- Randal Guy, g2 Management Consulting Inc.
"You guys rock."
- Reg Walsh, Gone Racing